To experience all the fun and excitement Escape Room PSL has to offer, follow these simple steps.
Book Online
Arrive 15 minutes before your booking time
Sign your waiver
Find Clues and Solve Puzzles
Complete within 60 Minutes
Celebrate your victory!
Download Waiver
Save time by downloading your waiver and bringing it with you!
Download Waiver
Save time by downloading your waiver and bringing it with you!
Gift Certificates Available
The Perfect
Gift.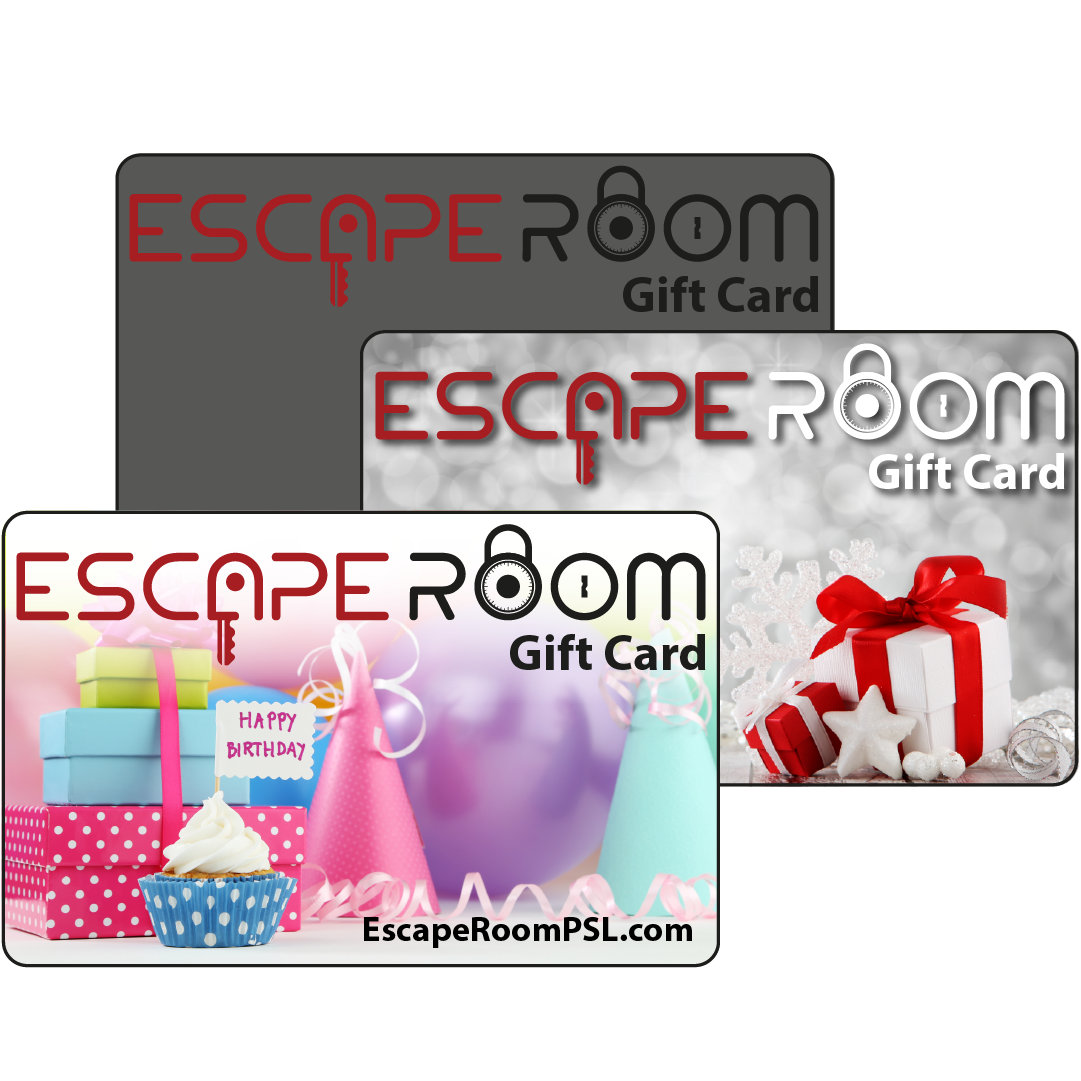 Now Playing at Escape Room PSL
Final Days - Ends 10/22/2017
   Ages 13+

   Up to 10 People

   $20 – $25 per person
Synopsis
Simon was not your normal child, growing up. Many people, including his parents and teachers, thought it was a phase he would outgrow. Little did they know that he would "grow up" to become a legend of gigantic proportions. We ain't talking about his size either. Plus, it would be an understatement to call him a serial killer.
More Details
Book Now
New for Halloween - Begins 10/25/2017
   Ages 13+

   Up to 10 People

   $20 – $25 per person
He's back, bigger and badder than before. This time he has a little helper. Father of the Year? Doubt it. Best Psychopath ever? You can bet on it. Since most of you saved your friend the last time. Simon has abducted another one. This time she is in a whole lot of trouble. Book now and see it through to it's electrify conclusion.
More Details
Book Now
   Ages 13+

   Up to 8 People

   $20 – $25 per person
Synopsis
You're a senior in high school. Today is the biggest party of the year, but the only problem is that you are stuck in Saturday Detention. Your Principal, Mr. Pickles, has no sympathy whatsoever and insists that you stay for the entire time or you will not graduate. Unless, you can find your way out of his custom built escape room.
More Details
Book Now
   Ages 10+

   Up to 10 People

   $20 – $25 per person
Synopsis
After your Uncle Bob passes away, you find out that he was a very successful Moonshiner. Unfortunately, he was involved with The Mob and owes the head boss, Luigi Rizzo AKA Lollipops, a lot of cash. You know that your Uncle Bob owns a cabin deep in the Everglades and that he hid the cash there. Lollipops gets word you are heading up to the cabin to find the money.
More Details
Book Now
Escape Room PSL is the Treasure Coast's newest family attraction inspired by the video game Escape the Room. It's a physically interactive game & mental workout set in a real, physical location that challenges you to decode & decrypt your way out of a "locked" room. Each Room features its own unique theme, challenges and props. You must explore each clue, find hidden secrets and crack codes to find your way out.
Trying to conquer the Escape Room PSL is the ULTIMATE team-building experience! Only by communicating, working together and using your time wisely will you find the clues, tools and items to escape within 60 minutes! From family gatherings, birthday parties, corporate team building or just something fun to add to date night. Escape Room PSL provides a unique and intellectual challenge. Contact us for special events or large groups.

LARGE PARTY OR CORPORATE EVENT?
Let us make your next more memorable. Contact us for more information.
Contact Us
---
Do you have what it takes?
---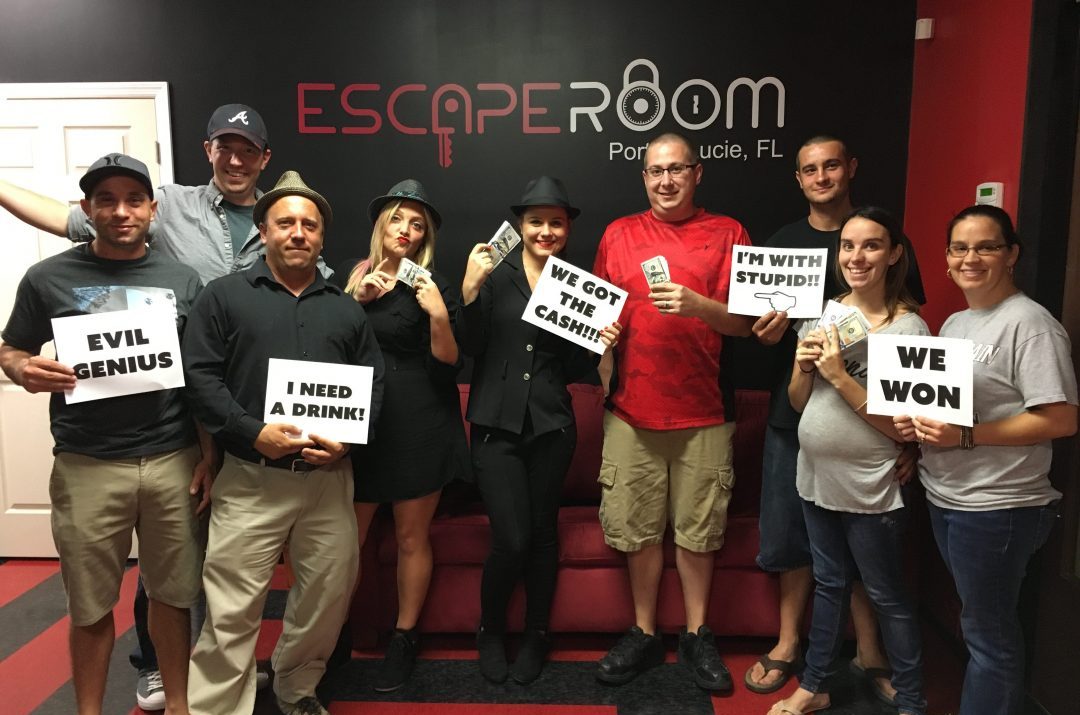 Pictured: Amie B, Rielle F, Taylor L and Company escaped with the cash! Uncle Bob would have been proud.
We had a great time welcoming our guests and were pleased that they took the time to join us as we celebrated our first week of operations. It's a great excuse to dress up, or not, and connect with new people or reconnect with old friends. At
Escape Room PSL
we are all about having a great time and we have many surprises planned that will entertain and amaze you.
Uncle Bob's Cabin
&
Simon's Room
are currently accepting bookings. Come and see what all the excitement is about!
Keep up-to-date with the latest news and what's happening at Escape Room PSL.
Read Our Blog
Visit Escape Room PSL on Google, TripAdvisor, Facebook, and Yelp to keep up with what people are saying! While there you can check out our ratings and read customer reviews. EscapeRoom PSL is a very sociable company and we welcome you into our circle of friends.