TEMPORARILY CLOSED:  Due to the COVID-19 pandemic, Escape Room PSL is temporarily closed. Stay safe, and we look forward to seeing you again soon!
$25 Gift Cards for only $20! Show your support for local businesses. Please, consider purchasing your Gift Card today. In return you will save you 20% off your future visit.
---
The Ultimate Escape Room Experience
---
To experience all the fun and excitement Escape Room PSL has to offer, follow these simple steps.
Book Online
Arrive 15 minutes before your booking time
Sign your waiver
Find Clues and Solve Puzzles
Complete within 60 Minutes
Celebrate your victory!
Save time by downloading your waiver and bringing it with you!
Gift Certificates Available
The Perfect
Gift.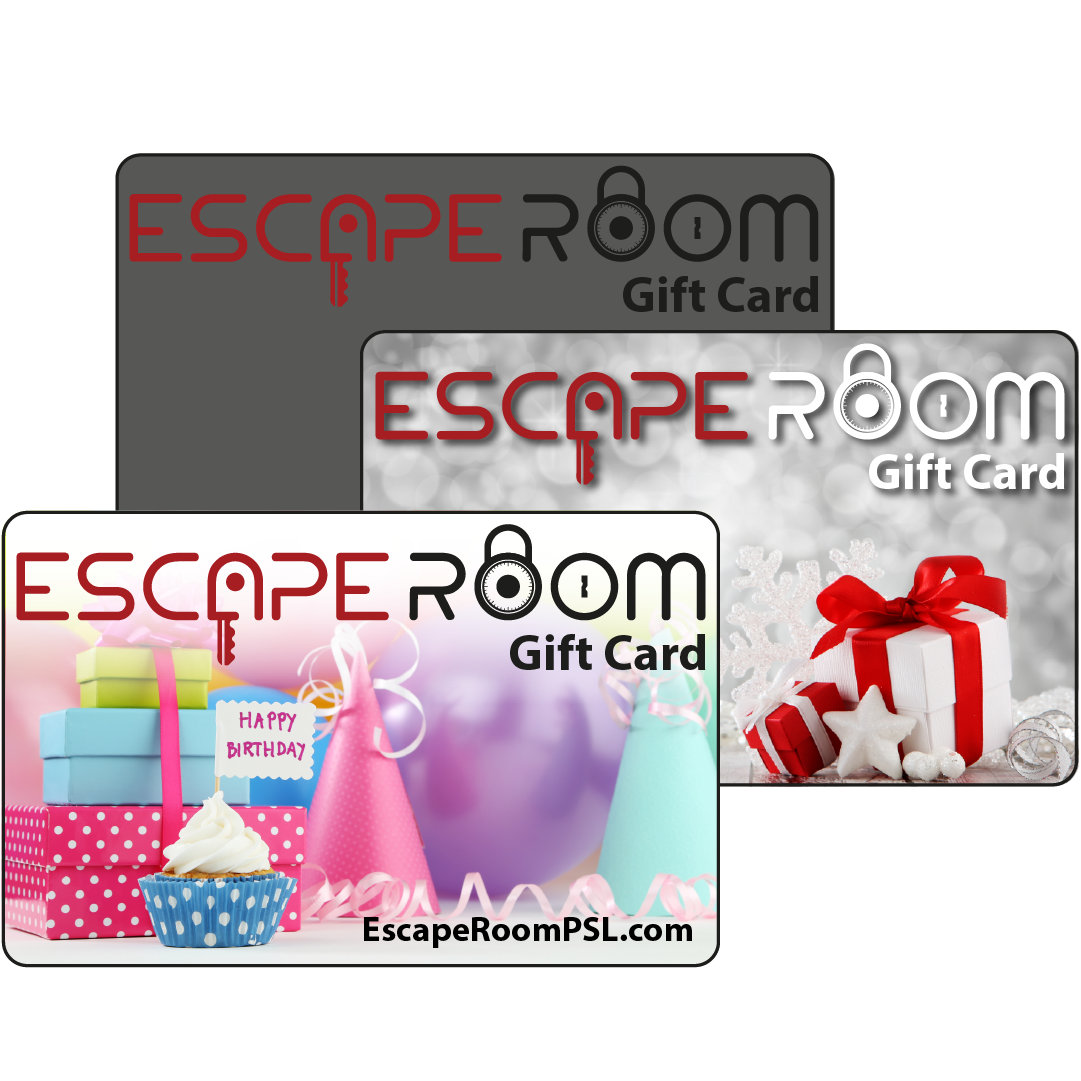 Each of our room feature it's own unique theme, challenges and props. You must explore each clue, find hidden secrets and crack codes to find your way out or complete your mission. While most rooms are suitable for children 10 years of age or older, some of our rooms may be to intense or complicated, parental discretion is advised. Any person under the age of 18 must be accompanied by and adult. Our rooms start promptly at the designated time. Please plan to arrive 15 minutes prior to your booking. The staff at Escape Room PSL would be happy to answer and questions you may have prior to booking and during your visit. Our goal is to make your experience as enjoyable as possible.
Ages 10+ Up to 10 People $25 per person Moderate
Ages 12+
Up to 10 People
$20 - $25 per person
Moderate

You are on a secluded fishing trip with friends at Lake Nimrod. All of a sudden the weather takes a turn for the worst. Before you know it the sky turns dark, funnel clouds appear and monster tornadoes start to touch down all around you. You don't have time to make the 5 mile trip back to your car but you see a cabin close by. Your mission is to get into the cabin and find the secret storm shelter before your group gets sucked into the VORTEX!
Ages 12+ Up to 8 People $25 per person Difficult
Ages 10+
Up to 8 People
$20 - $25 per person
Moderate


A computer virus has crippled your bunker's computer system and shut down all of its life support systems. As oxygen supplies dwindle, you must find a way to get the automated systems back online.
Hurry, you only have 1 hour of breathable air remaining, and every breath counts.
Ages 12+ Up to 10 People $25 per person Moderate
Ages 12+
Up to 10 People
$20 - $25 per person
Moderate


He's back, bigger and badder than before. This time he has a little helper. Father of the Year? Doubt it. Best Psychopath ever? You can bet on it. Since most of you saved your friend the last time. Simon has abducted another one. This time she is in a whole lot of trouble. Book now and see it through to it's electrify conclusion.
Escape Room PSL is the Treasure Coast's newest family attraction inspired by the video game Escape the Room. It's a physically interactive game & mental workout set in a real, physical location that challenges you to decode & decrypt your way out of a "locked" room. Each Room features its own unique theme, challenges and props. You must explore each clue, find hidden secrets and crack codes to find your way out.
Trying to conquer the Escape Room PSL is the ULTIMATE team-building experience! Only by communicating, working together and using your time wisely will you find the clues, tools and items to escape within 60 minutes! From family gatherings, birthday parties, corporate team building or just something fun to add to date night. Escape Room PSL provides a unique and intellectual challenge. Contact us for special events or large groups.

LARGE PARTY OR CORPORATE EVENT?
Let us make your next more memorable. Contact us for more information.
Contact Us
---
Do you have what it takes?
---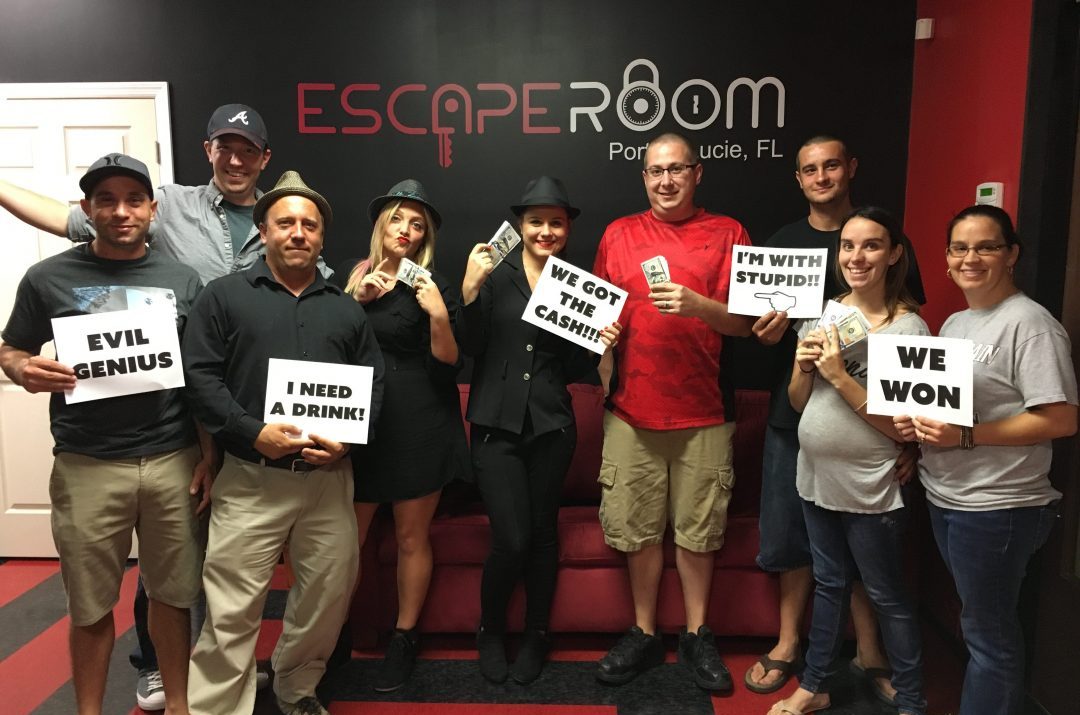 Pictured: Amie B, Rielle F, Taylor L and Company escaped with the cash! Uncle Bob would have been proud.
We had a great time welcoming our guests and were pleased that they took the time to join us as we celebrated our first week of operations. It's a great excuse to dress up, or not, and connect with new people or reconnect with old friends. At
Escape Room PSL
we are all about having a great time and we have many surprises planned that will entertain and amaze you.
Uncle Bob's Cabin
&
Simon's Room
are currently accepting bookings. Come and see what all the excitement is about!
Keep up-to-date with the latest news and what's happening at Escape Room PSL.
Read Our Blog
---
Subscribe to Our Mailing List
---
Subscribe to our mailing list and stay up-to-date on what's happening at Escape Room PSL. In addition to these updates you may also receive the following:
Invitations to Special Events
Special Offers for Subscribers Only
New Room Openings
Behind the Scenes Previews
Birthday Recongnition
Visit Escape Room PSL on Google, TripAdvisor, Facebook, and Yelp to keep up with what people are saying! While there you can check out our ratings and read customer reviews. EscapeRoom PSL is a very sociable company and we welcome you into our circle of friends.